Shopware is a highly flexible and customisable open source e-commerce solution, developed in Germany since 2004, which allows you to create an online shop quickly and easily. With more than 18,000 customers and several thousand extensions, it is now one of the most widely used solutions in the European market.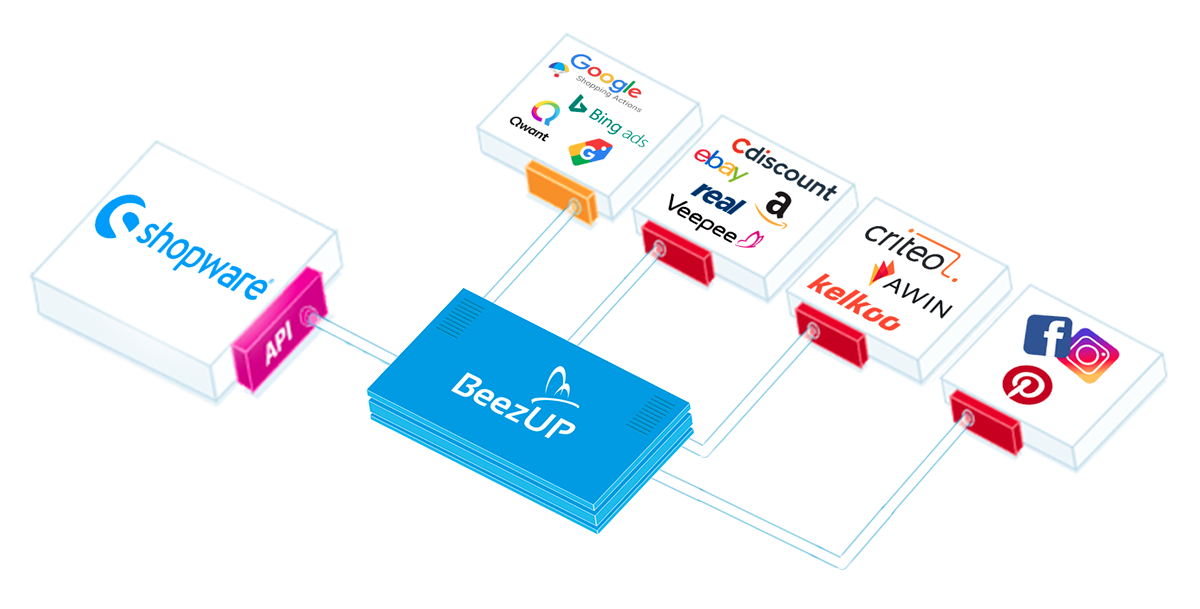 The BeezUP Shopware module enables you to connect your e-commerce shop to BeezUP and provides bi-directional data transmission.
It will give you access to many BeezUP compatible networks: price comparison engine, marketplaces, social networks, retargeting, Product Ads and affiliation…
Constantly evolving, our module covers 3 major pillars:
Generation and exporting of your product catalogue in BeezUp format.
Bi-directional synchronisation of your orders from marketplaces.
Activation of our statistics tracker for price comparison engine or affiliation.
The advantages of our Shopware module
1 – A source catalogue in the right format
Our Shopware module allows you to generate your source product catalogue for BeezUP by making it accessible from an http link. Many filters and options are available allowing you to customise and export only the data you choose.
Its strongpoints:
   + Different product filtering options
   + Management of product variations
   + Configuration of the shipping costs
   + Secure access to the source stream via IP address filtering and/or security key

2 – Synchronised marketplace orders
All your orders from marketplaces will be imported directly into your Shopware shop. Automation of the order feedback is also possible via a scheduled task (Cron).
Your marketplace orders will then be visible directly on your e-commerce shop like any other order made on your site, making it possible to update stocks on your Shopware back-office.
Its strongpoints:
   + Synchronisation of order statuses
   + Multi-shop management
   + Fulfilment order options
   + Personalisation of orders to import
3 – Comprehensive tracking of your activity
For orders placed on your site, our module also allows you to activate a tracking code that is completely invisible to your visitors, allowing you to associate these orders with clicks from comparison sites or other networks.
A dashboard showing these statistics is available on your BeezUP interface.