The product catalog is the black gold of all e-merchants who, like you, sell their products on their own online shop or on other e-commerce platforms.
You must structure it well from the beginning! Indeed, poor management of your product feed can have a range of negative impacts on your business, such as failure to distribute your offers, incorrect referencing of your product sheets… And consequently, a drop in your turnover…
But what exactly is it? How can you use it to your advantage? How can you successfully manage it? 🤔
To answer these questions, in this article we have set out all you need to know about product feed management and the feed manager.
---
SUMMARY
1. What is a product feed in e-commerce?
Before talking about feed management, let's start by defining what a "product feed" is.
A product feed is a digital file that can take different forms (CSV, XML, etc.) allowing you to export your product catalog to an e-commerce platform. All the information you want to communicate to your business partners is in this file:
The product titles;
The images;
The descriptions;
The prices;
The categories;
The available stock…
This data allows you to publish your product sheets on your merchant site but also on other e-commerce sites. Here's what it looks like 👇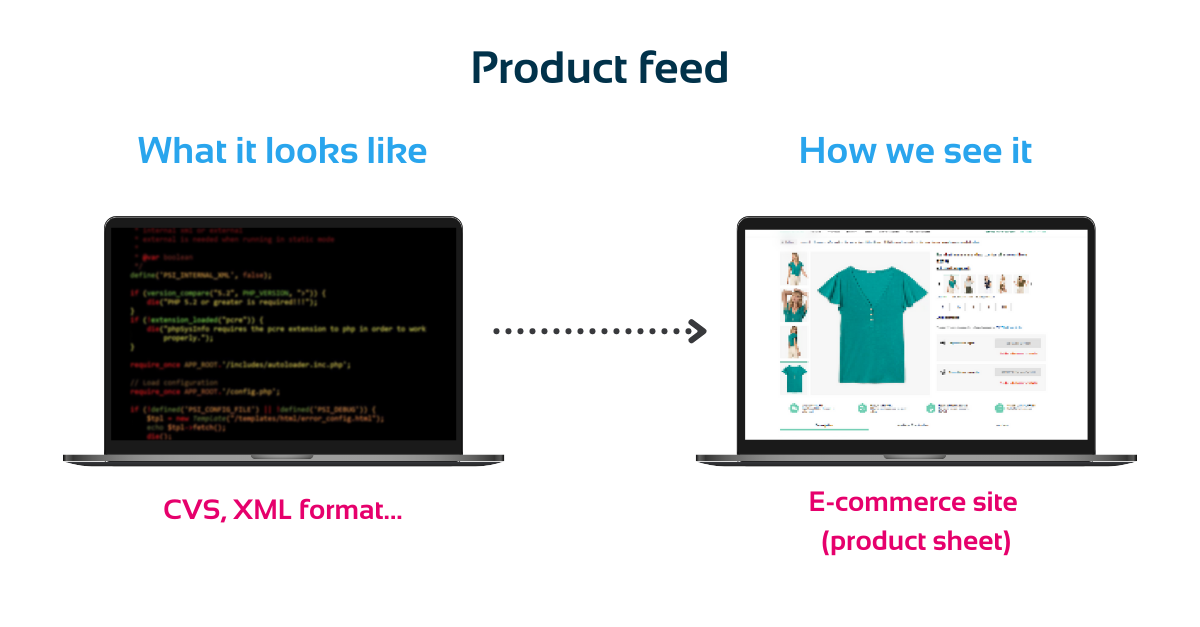 📌 What does a product feed do?
It allows you to:
Improve the referencing of your product sheets;
Optimise product features;
Publish your promotional offers;
Highlight some of your products…
2. How does it work?
The export of your catalog from your Prestashop, WooCommerce or Magento shop allows the recipient sites to recognise your products, put them online and reference them.
💻 The recipient sites can be:
How does it work? You export your product catalog on your e-commerce site and then you import it on the recipient platform, as shown in the diagram below. 👇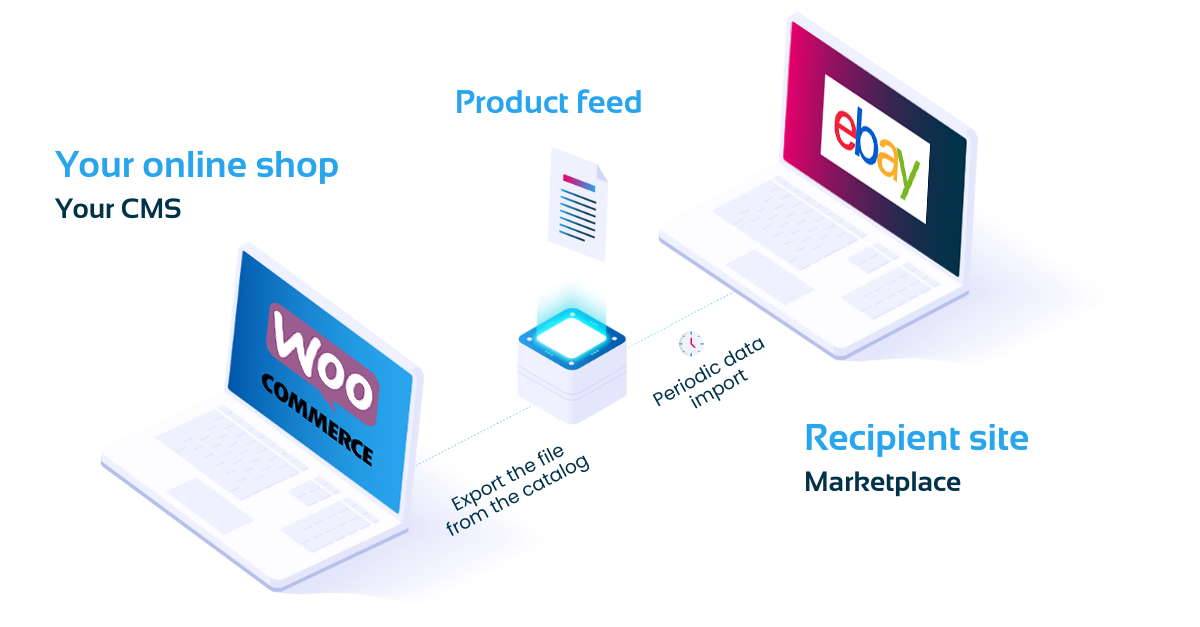 It's easy! But what complicates the task is that each e-commerce network has its own requirements for structuring the flow (detailed below).
To deal with this difficulty, it is important that you have a good product feed, i.e. good data from the start.
But what is good data? 🤔 This is data that will reconcile the stakes of your merchant site and allow their optimal use on e-commerce platforms.
To begin with, you need to structure your data in your CMS:
Organise your categories;
Create product characteristics;
Create product attributes that allow you to offer product versions;
Create product associations;
Fill in fields to improve your SEO;
Create tags…etc.
This information, which facilitates browsing and search on your e-commerce site, will be included in the fields of your product feed, which will be very useful to the feed integrator when it comes to adapting your export feed to the formats desired by the e-commerce networks.
3. What is a product feed manager?
Now that you know what a product feed is and what it's used for, we will explain how an e-commerce feed aggregator manages it.
A feed management tool is an online SAAS software that acts as an intermediary between your e-shop and e-commerce channels such as eBay, Google Shopping, leGuide.com and Affilae).
The "e-commerce feed manager", also called "integrator" or "aggregator", is a software company such as BeezUP, which provides an automated, centralised solution to help you distribute and manage your products on a number of marketing acquisition networks and online sales channels.
4. How does a multi-channel feed management tool work?
In addition to distributing your catalog to the various channels, the tool gives you access to key functions such as: synchronisation of stocks, prices, orders, invoice management, interconnection with a number of e-commerce platforms.
BeezUP even enables you to manage your messages from marketplaces 😉.
From a technical point of view, the integration of your e-commerce shop with the product feed manager is done through modules or by API.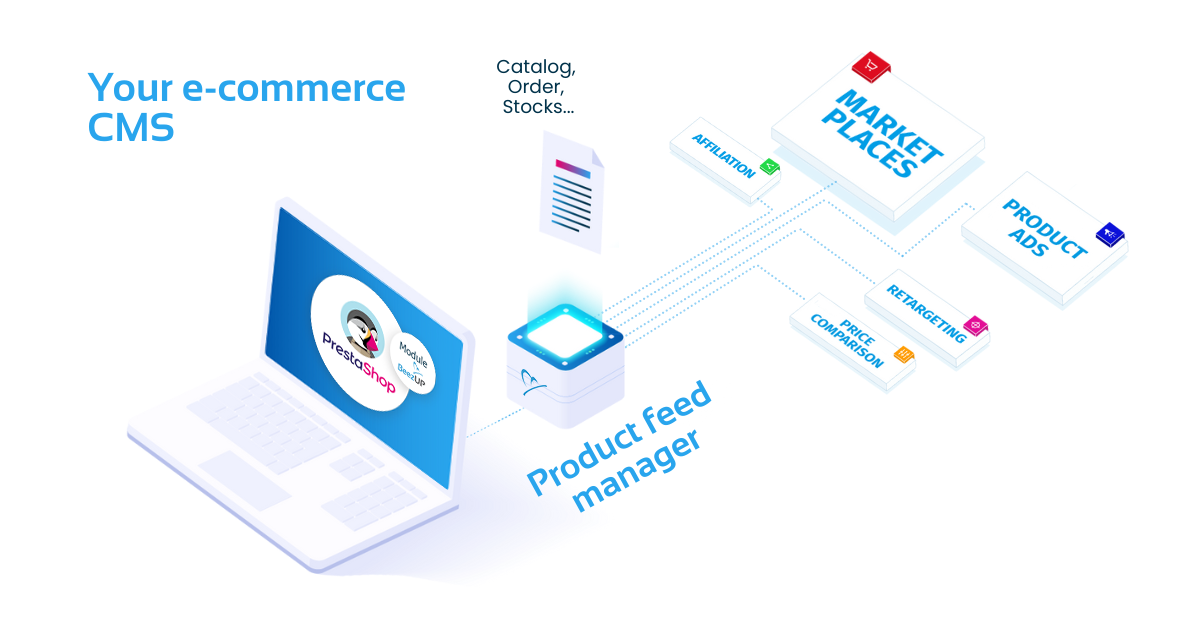 To understand how the feed integrator works, you must keep in mind that it will interact with different types of e-commerce networks, divided into 2 main categories: direct sales channels, in other words marketplaces, and marketing acquisition channels.
📌 A direct sales channel is, as the name suggests, an online sales platform where purchases can be made directly.
For example, your customers can buy your product directly from the Amazon marketplace, without going through your website.
💰 The business model: monthly subscription and commissions on sales depending on the product category.
There are 5 main information exchange flows between the marketplace and the merchant's online shop: products, offers, orders, messages and financial.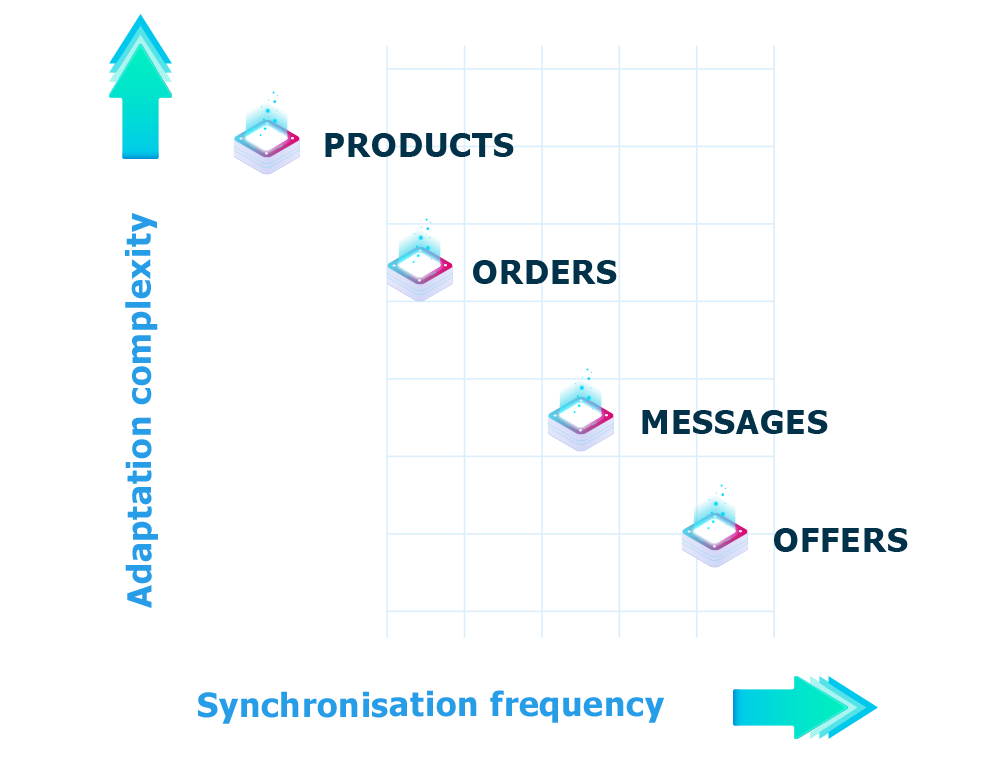 As you can see from the diagram above, the management of marketplace flows has to take 2 main things into account: on the one hand, the complexity of adapting the feed to the platform's requirements and, on the other hand, the more or less frequent need to synchronise the data.
We will see how these two factors affect each feed:
🔃 Products
This is the main feed, the starting point for a merchant wishing to sell on a market place. It is the most technically complex, because it must be adapted to platforms' expectations. It requires a low synchronisation speed (within a day or a few hours), unless it is an extremely popular product.
You have 3 main types of information to fill in for the product feed:
Categories: defined on your shop, they must be adapted to those of the marketplaces.
Example: clothing, shoes, etc.
Attributes: here too you need to adapt your product characteristics to those of the marketplace.
Example: weight, size, etc.
Values: you need to match yours with those already existing on the marketplace, either by adaptation or enrichment.
Example: colours available for the product.
🔃 Offers
An offer, also called the "hot data", contains mainly a price and a stock. This feed requires little adaptation, but is high-stake in terms of its synchronisation frequency.
For example, a price that is not updated can cause you to lose a sale to a competitor who offers a better price for the same product.
As for the stock, if it is not updated frequently enough and a sale takes place when you are out of stock, you will be penalised by the marketplace because you will not be able to meet the order.
🔃 Orders
These are generated by a customer interested in your offer on a product. For this feed, the synchronisation frequency requirement is lower than for offers, as marketplaces expect them to be processed within the day or within 48 hours at the latest.
However, the adaptation complexity of this feed is high, as each platform has its own approach to processing acceptances, shipments or refunds…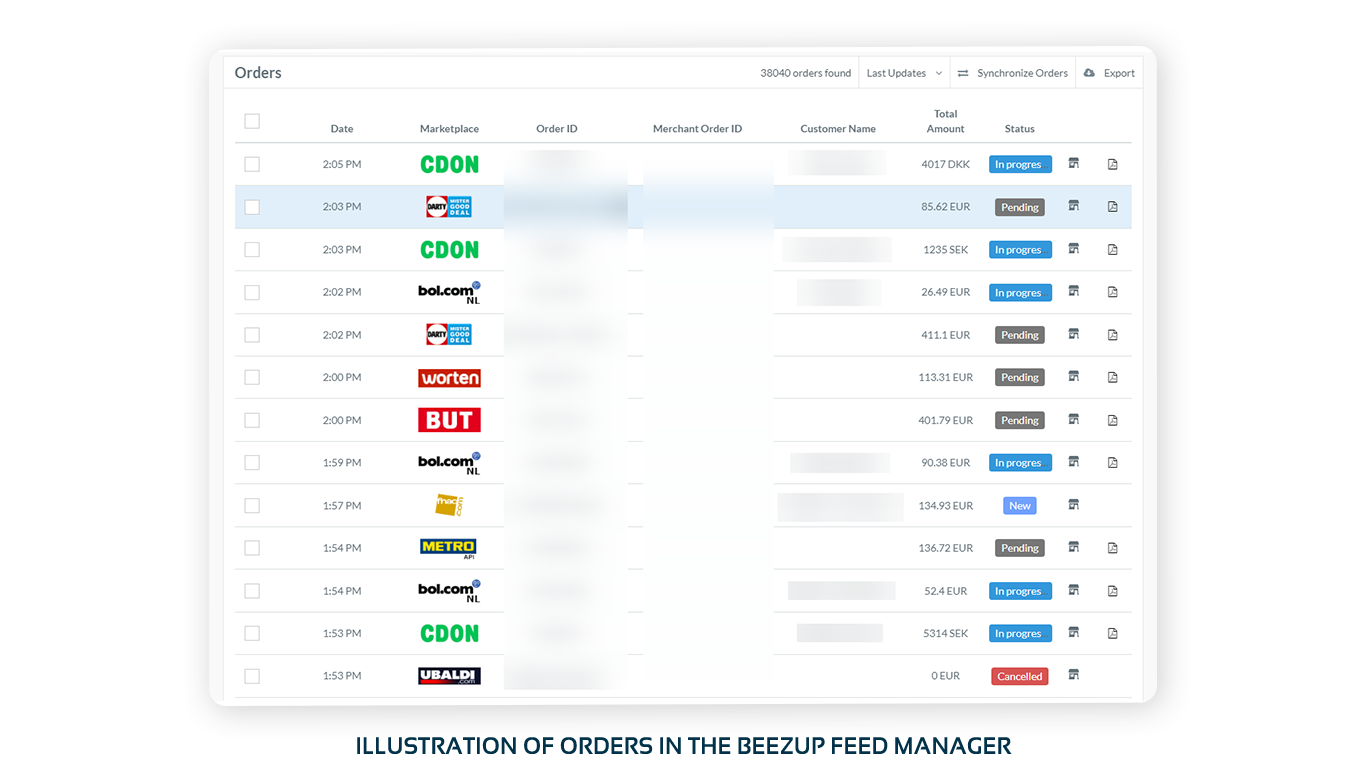 🔃 Messages (special feed, only exists at BeezUP)
This feed is similar to the order feed with a higher stress level in terms of synchronisation. In fact, in pre-sale, it is in your interest to respond quickly to a user who is about to place an order.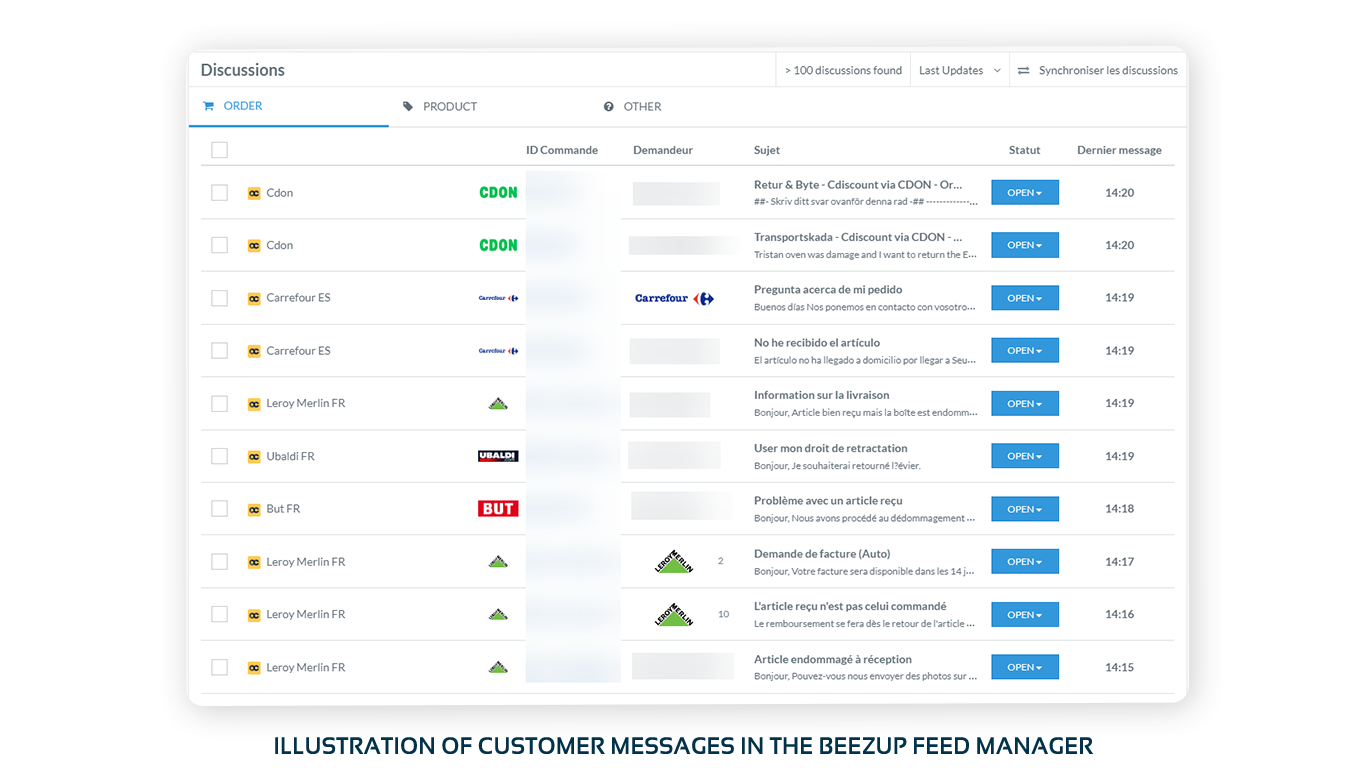 In the after-sale phase, your potentially irritated customer has high expectations of your responsiveness, which could lead to customer dissatisfaction if your response is slow in coming.
The marketplace feed manager acts on the two factors we have just seen to facilitate your feed management.
📌 A marketing acquisition channel – such as price comparison sites – does not directly generate sales, but rather traffic to your e-commerce site. On this type of network, you only have product and offer feeds to consider.
💰 Its remuneration model is mainly based on cost per click (CPC), cost per thousand (CPM). For price comparison sites, there is also a monthly subscription.
Poor management of your feeds on these networks can lead to a significant increase in the cost of your campaigns.
So, whether it be on marketplaces or acquisition marketing networks, you can see that the performance of your sales and your campaigns depends on the management of your product data.
💡 What you need to remember 💡
As we have seen, product feed management is essential for any merchant who wants to develop their online business because:
All networks have their own requirements for structuring the product catalog;
E-commerce channels and your shop require regular updating of your feeds 🔄 ;
An incomplete or poorly filled-in product feed will lead to the rejection of your offers and/or products on the sales and distribution platforms ⛔ ;
You do not have the time, human and financial resources to be efficient and profitable on every channel… 🤑
An e-commerce feed integrator such as BeezUP allows you to automate and centralise the management of your feeds to save time, get a better return on your investment and put in place an efficient omnichannel sales strategy.
Indeed, good data allows for good product feed management and therefore better management of your business as a whole. It is also a significant asset when it comes to opening up to the international market.
Now it's up to you to choose the right feed manager for your business model! 😉
---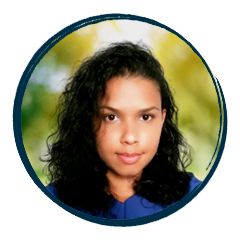 Annabelle Granulant
Content Manager at BeezUP