Two onboarding programs to start
being guided by our experts
So that your products publication & orders synchronization can be a common success, choose the onboarding program that suits the best to your situation:
Standard Onboarding
« Standard » onboarding is a program during which you are guided to setup BeezUP within the number of hours included in your offer.
A project manager helps you throughout the described steps below to make sure your settings are always consistent with your needs.
The included number of hours depends on your subscribed offer.
Premium Onboarding
« Premium » onboarding is a program during which BeezUP team handles your settings.
After a business & technical audit is made, a project manager takes care of your onboarding* following below described steps.
The included number of hours is defined by our onboarding manager after audit.
*are excluded:
Technical actions into you store if specific to your environment
New product attributes added to your PIM
Categories mapping with targetted channel
Your onboarding follows these 7 steps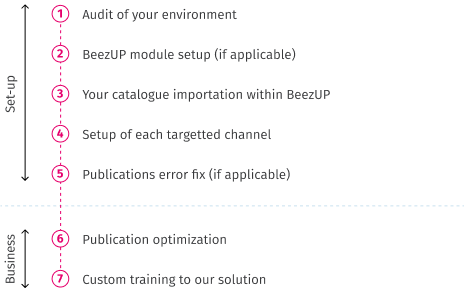 Help center for step-by-step guidance
Looking for specific information on BeezUP or a partner network? Consult our help center: available in five languages with a powerful search engine, you're sure to find the article you need. A factsheet is provided for each network and acquisition channel to help you get right to the point. You can also count on us to keep you informed as early as possible of any changes to BeezUP and the channels you work with!
A support team to drive your success
Do you have any questions? Experiencing problems related to your channels or use of BeezUP? Don't hesitate to contact our support team, recognized and valued by more than 95% of our customers. Our experts will reply, at the earliest opportunity, with a single goal in mind: to find a solution to your problem. Because we've been retailers like you, we understand the vital importance of responsiveness in e-commerce, so nearly 50% of requests are answered within the hour! Would you like wider-ranging support from BeezUP to prepare for your migration or the day-to-day management of your data feed? Contact us for a customized quote.