A few years ago, registering on a marketplace and putting your products online was all you had to do to sell.
Today, with the number of merchants on the marketplaces increasing and the competition getting tougher, it is wise to subscribe to promotional tools to increase the visibility of your products and thus stand out from the crowd.
This article will give you an overview of the many sponsoring tools around today, which differ from marketplace to marketplace. It will help you choose the ones that best fit your online sales strategy!
---
SOMMAIRE
---
1. The different promotional levers offered by marketplaces and their advantages
Marketplaces offer various sponsoring methods. It is up to you to choose the right method for your strategy.
The most used promotional lever! 70%* of people who search on a marketplace do not go beyond the first page of results. The first three results receive 64%* of all clicks. And 80% of sales* are made on the first page.
These percentages show how important it is for a merchant to have their product on the first page.
To make it onto the first page, merchants have two options:
👉 Firstly, natural referencing, by working on their product sheets and their seller rating, although the results obviously take longer to obtain and require a lot of work.
👉 Secondly, sponsored ads. This is a very quick and efficient way to achieve this. The sponsored products will be the first items that the customer sees once they have done their product search. This method promotes the visibility and therefore the sales of your products. It's useful to know that you will only be billed for the clicks on your products, their display is not counted (CPC model).
* source pricemoov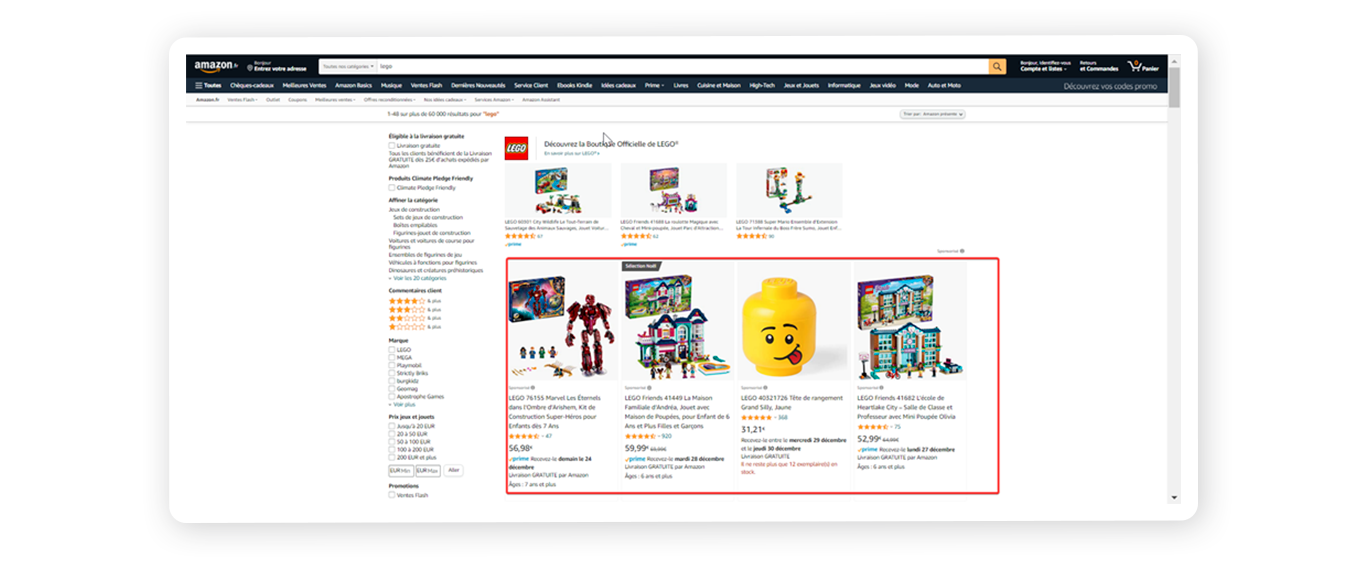 As with sponsored products, these advertisements appear in the first search results and increase the awareness of your brand and your product catalog.
These ads include your brand logo, a custom title and up to three of your products. The billing principle is the same as for the sponsored products. Only clicks on your ad are charged.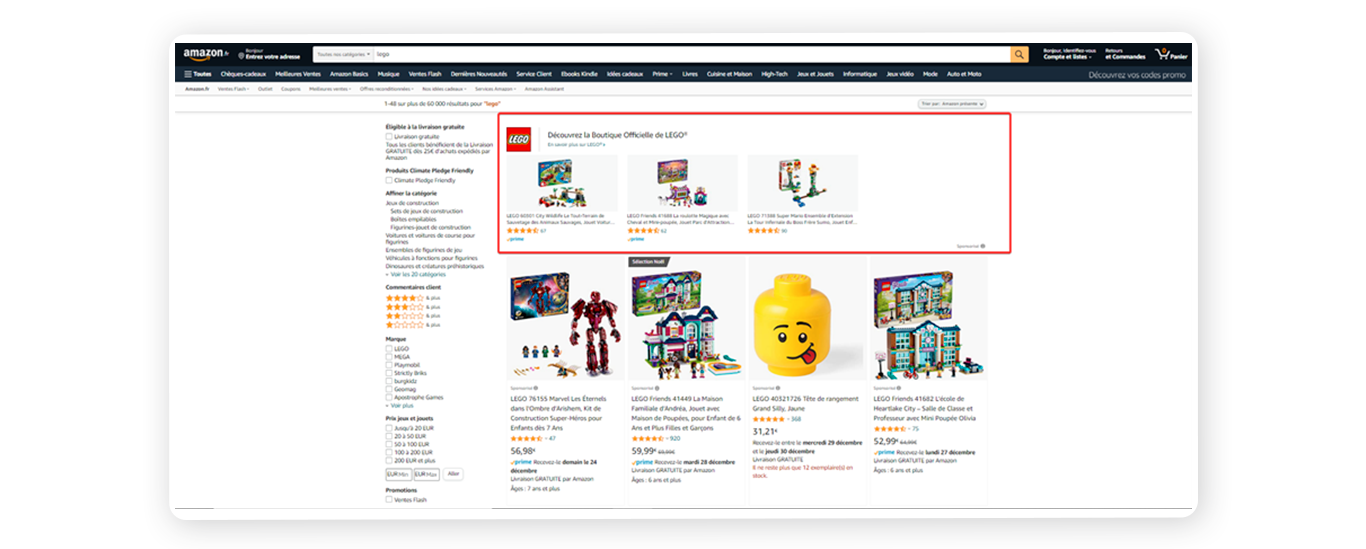 Display ads can appear in a variety of graphic ad formats such as videos, animations, pop-ups and banner ads.
They can appear at the top, side and middle of the content of any marketplaces.
They are recognised for their efficacy as they reach more than 90%* of people browsing the internet.
As with sponsored products and sponsored brands, display ads are charged per click.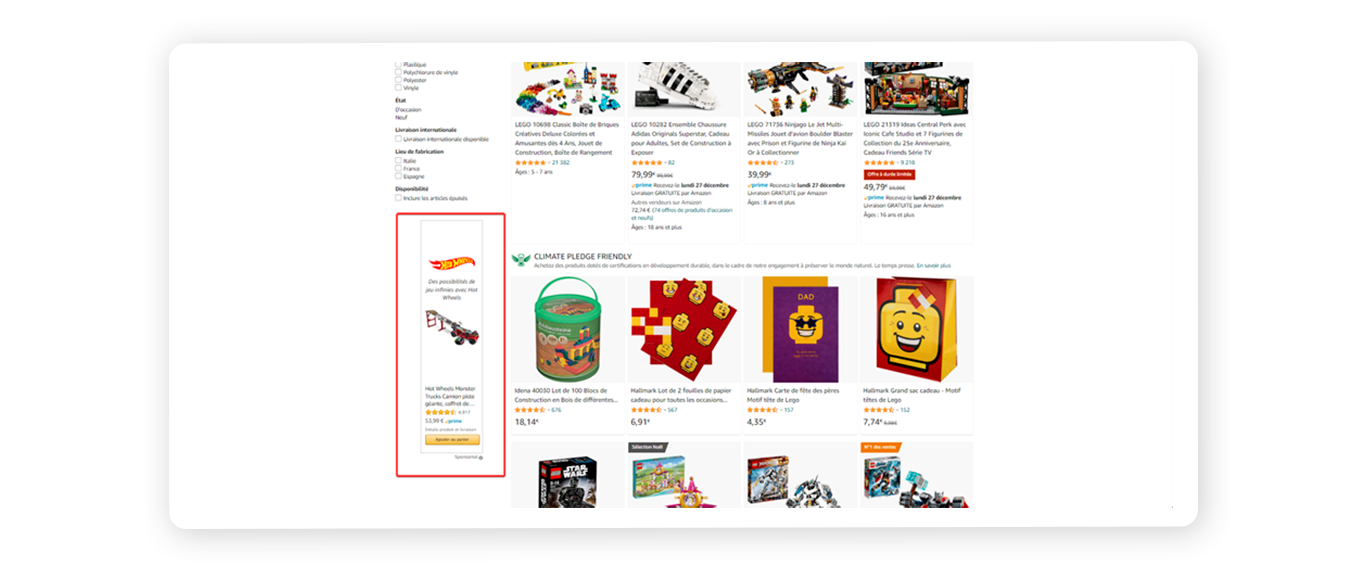 These online shops provide you with a space on the marketplace that is fully dedicated to your brand and personalised. You can often add your logo and all your products can be found at a glance.
Paid advertising options may be offered so you can get your shop on the front page or at the top of search results.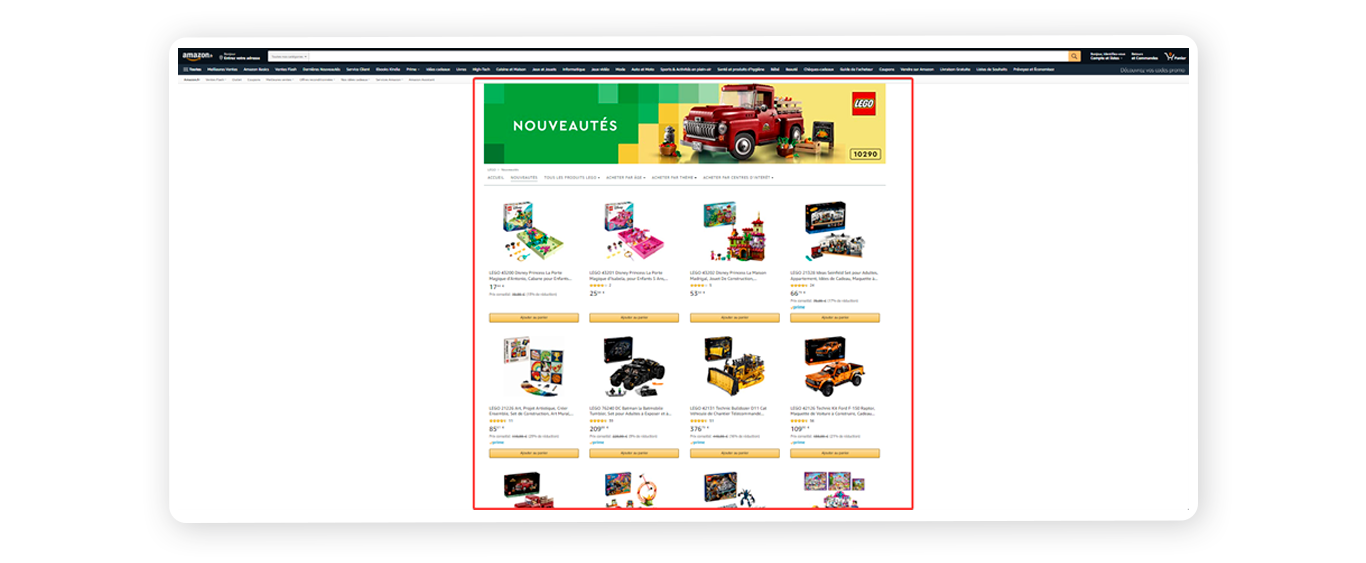 Some marketplaces offer their customers loyalty programmes, and offer you as a seller the chance to make your products eligible for these loyalty programmes.
There are many advantages as a seller to subscribing to these types of programmes: subscribers are loyal customers of the marketplace and order more regularly than non-subscribers.
Your products will be highlighted by the loyalty programme, and this visibility will increase your sales.
The after-sales service on these products may even, in some cases, be managed directly by the marketplace. You may only be responsible for the logistics: the marketplace requires you to meet fast delivery times.
👉 Eligibility for these loyalty programmes varies according to the marketplace.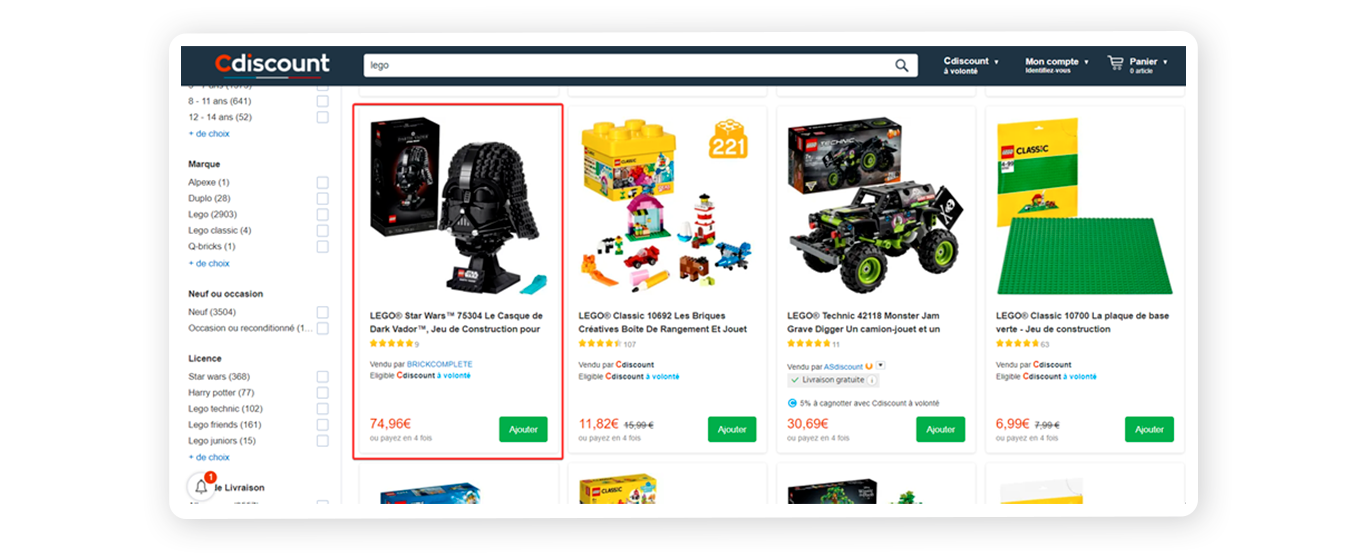 2. Overview of the promotional tools offered by the main marketplaces
Amazon
Cdiscount
eBay
ManoMano
Rakuten

Sponsored product

– Invoicing at one click
– Minimum daily budget of €1
– Auctions can be controlled from €0.02
– 2 management modes: choice of manual or automatic key words

– Invoicing at one click
– Manual or automatic auctions
– Manual choice of key words

– Payment at one click only if the internet user buys the product within 30 days!
– Accessible only to eBay sellers with "Very good seller" or "Top reliability seller" status
– 2 formats available: "standard" and "express"

– Daily or overall budget
– Invoicing at one click
– Automatic or manual mode (cpc per key word or product)

– Fixed payment per click: €0.20
– Personalisable budget
– Automatic choice of key words


Sponsored brand

– Invoicing at one click

– Invoicing at one click

2 packs of advertising levers:
– "Visibility and Notoriety": visibility of home page / landing page / banners / brand page / CRM marketing
– "Performance": sponsored products on category pages / home page / marketing CRM


Display advertising

– Invoicing at one click
– Automatic generation
– Personalisable budget


– Invoicing at one click

On-line shop

– Free
– Personalisable

– Free and automatic
– Non-personalisable


3 subscriptions available: Basic / Featured / Premium

– Free
– Personalisable


Loyalty programme

– Provides access to "prime" customers
– Customer services managed by Amazon
– Increases the chances of winning the buy box

– Provides access to "Cdiscount At Will"
– Better offer visibility
– Featured at promotional events

– Provides access to "Club R" customers
– Better offer visibility: display on the "Rakuten Deals" page
– Only charged for sales made on your advertisements offering Rakuten Points


Others

Video offers, immediate reduction coupons, preferential packs

– "Rakuten coupon" programme

Link 🔗

Amazon
Cdiscount
eBay
Rakuten
---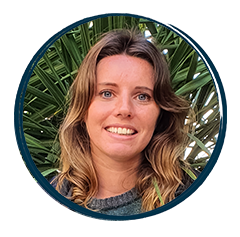 Elise Bonno
Customer Success Manager at BeezUP